The rise of freelancing jobs in Canada: A comprehensive guide
Our comprehensive list of freelancer jobs provides opportunities to leverage your skills, ensuring flexible work schedules and remarkable income potential. Explore and excel.
Ah, freelancing! The siren song of flexibility, autonomy, and the possibility of working in your pajamas. Globally, we've seen an uptick in this professional approach. But have you noticed what's happening right next door? Canada is not just famous for its maple syrup and friendly locals anymore. There's a quiet revolution happening in the world of work, and Canada is right at the heart of it.
The evolution of freelancing in Canada
Remember the times when everyone aimed for a 9-5 job, punctuated by that famed water cooler chat? Well, things have changed. In Canada, as in many parts of the world, the concept of work has transformed. But what made Canada adopt freelancing so eagerly?
The expansion of the internet was one game-changer. High-speed connections and advanced technologies turned any corner of one's home into a potential office space. Plus, with global crises like the pandemic, remote work became not just popular but necessary. And what's more remote and flexible than freelancing?
Why freelancing is gaining popularity in Canada
Picture this: you're sipping on a cup of coffee, gazing out at the Canadian Rockies, and logging into a work meeting. Sounds idyllic, right? The appeal of freelancing isn't just about scenery, though.
First, there's the undeniable allure of flexibility. Who wouldn't want to ditch the morning commute, decide their own hours, and potentially earn more than a typical salaried job?
But it's not just about individual advantages. Businesses, especially startups and SMEs, find hiring freelancers economically beneficial. Why commit to full-time salaries when you can get work done on a project-by-project basis?
And let's not forget diversity. With freelancing, you're not tied down to a specific industry or role. You can be a tech guru today, dabble in design tomorrow, and pen your thoughts the day after. The Canadian market, with its vast industries and opportunities, is ripe for this kind of exploration.
Popular freelancing jobs in Canada
So, what's hot in the Canadian freelancing market? Let's dive in!
Digital and tech fields
Web design and development: With virtually every business going online, web developers are the new rockstars.
Digital marketing, SEO, and content writing: Want your business to get noticed? These experts make sure you shine online.
Software development and IT support: The backbone of the digital age. If you're good at this, there's a job waiting for you in Canada.
Creative fields
Graphic design and multimedia arts: From branding to advertising, creatives are painting the town red, or any color businesses desire!
Writing, blogging, and journalism: Got a story? A thought? An opinion? The pen (or keyboard) is mightier than ever.
Photography and videography: Every moment, every product, every event needs to be captured, and who better than these visual magicians?
Consultancy and professional fields
Business consultancy and coaching: Businesses need direction, and these mavens provide just that.
Financial planning and consultancy: Money matters, and these experts make sure it's well taken care of.
Legal consultancy: With great power (read: business) comes great responsibility, and that's where legal experts step in.
Elevate Your Visibility, Win More Clients!
Crafted by Canadian freelancers, for Canadian freelancers. Join our thriving community today.
"Freel.ca transformed my freelance journey. As a web developer in Montreal, it's the best platform to showcase my skills and connect with top clients."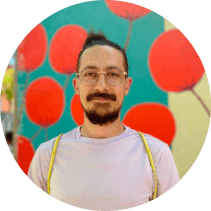 Julien Le Mee
Freelance Web Developer in Montreal
Navigating the freelance job market in Canada
Alright, you're convinced. Canada's freelancing scene sounds exciting, and you want in. But where do you start?
For one, platforms like Upwork, Freelancer, and Toptal are your new best friends. They connect businesses with freelancers and are an excellent starting point.
But don't just rely on these platforms. Ever heard of the saying, "It's not what you know, but who you know"? Networking is the key. Join local freelancer communities, attend meetups (even virtual ones), and get your name out there.
And in this age, your social media profile is your new resume. Brand yourself, showcase your work, engage with potential clients, and before you know it, opportunities will come knocking.
Essential SEO tips for freelancers in Canada
Speaking of getting noticed online, have you brushed up on your SEO? If you're a freelancer in Canada (or anywhere, really), you can't afford to ignore it.
Your online portfolio is your storefront. Just like a store on a busy street gets more footfall, an optimized portfolio attracts more views. But how?
Keywords are crucial. But remember, it's not just about stuffing your content with "freelancing jobs in Canada". It's about integrating it seamlessly. Think of it as seasoning – the right amount makes the dish, but too much? Yikes!
And content? Quality over quantity. Engaging, original, and relevant content is the king, queen, and the entire court.
Challenges faced by freelancers in Canada and how to overcome them
It's not all a bed of roses. Freelancing comes with its thorns. The Canadian market is competitive. There might be days, or even weeks, without a project. Irregular income can be stressful. And then there's the legal maze of contracts, taxes, and permits.
But hey, remember every challenge is an opportunity in disguise. Plan your finances. Set aside a rainy day fund. Always have a contract in place. Stay updated on the tax laws. And always, always keep learning and upskilling.
Case Studies: Success stories of freelancers in Canada
Let's humanize our discussion a bit, shall we? Meet three Canadians who've ditched the traditional work model and are acing the freelancing game.
1. Sophie, the digital nomad
Sophie, a Toronto native, started as a content writer for a tech firm. Now? She travels across Canada in her van, blogging about her adventures, partnering with travel brands, and, of course, showcasing the mesmerizing Canadian landscapes. Her secret? Sophie saw the potential of SEO early on and made her blog an authoritative source for Canadian travel. By the way, have you checked out her Instagram feed? It's wanderlust overload!
2. Raj, the techie
Moving from India to Vancouver, Raj initially struggled to land a permanent IT job. However, he soon discovered the goldmine of opportunities in the freelancing world. Specializing in cloud solutions, Raj now works with global clients, proving you don't need a conventional 9-5 job to be successful. His mantra? Networking and constant upskilling. Raj says, "Every day is a learning opportunity!"
3. Elise, the branding genius
Elise, hailing from Quebec, turned her passion for art into a thriving freelance graphic design business. From logos to complete branding solutions, Elise has made a mark in the Canadian startup ecosystem. She believes freelancing offers a balance between personal passions and professional growth. And her advice? "Be genuine, be you. That's your USP!"
Challenges, solutions, and the road ahead
Even these successful freelancers faced hurdles. Inconsistent incomes, client disagreements, and staying relevant in a competitive market. Yet, they persevered. Their advice? Diversify your skills, never stop learning, and build genuine relationships, not just networks.
Freelancing, like any other job, requires dedication. It might offer flexibility, but it demands discipline. It might free you from office politics, but it calls for self-motivation. Are you ready for it?
And as for the challenges? Remember, every freelancer, whether in Canada or Cambodia, faces them. The key is to see them as stepping stones, not stumbling blocks.
Looking forward
The landscape of work is changing, and Canada is at the forefront of this revolution. With businesses becoming more open to remote working and flexible job roles, the future for freelancing in Canada looks brighter than ever.
Moreover, with the continued growth of digital platforms, international boundaries are blurring. A freelancer in Canada today could very well be working on a project for a client in Japan, while sipping coffee in a cafe in Paris. The possibilities are endless!
So, what's your freelancing dream?
Canada offers a playground of opportunities. Whether you're a tech enthusiast, a creative soul, or someone with a business acumen, there's a space for you in the freelancing world.
The final question is, are you ready to take the plunge and be part of the freelancing wave in Canada? After all, in this vast, dynamic, and ever-evolving marketplace, there's one essential truth: your success story is just waiting to be written. Are you ready to pen it down?
Conclusion
In the mesmerizing world of freelancing, Canada stands out as a beacon of opportunity. The journey might have its ups and downs, but the rewards? Immensely fulfilling. So, whether you're someone looking to dive into freelancing or a business seeking the best talent, Canada's vibrant freelancing ecosystem awaits you. Dive in, explore, grow, and let your unique story unfold.
Alright, dear reader, it's time to wrap this up. But remember, every end is a new beginning. How will you begin your freelancing journey in the Great White North? We're excited to find out!
Similar freelancing resources
Frequently asked questions
Have a different question and can't find the answer you're looking for? Reach out to our support team by sending us an email and we'll get back to you as soon as we can.
How do I start looking for freelance jobs in Canada?

Begin by creating a strong online portfolio, then sign up on freelance platforms like Upwork or Freelancer, and consider joining Canadian-specific platforms or job boards.

Are there Canada-specific platforms for freelancers?

Yes, there are platforms and job boards specifically tailored for the Canadian market, such as Canadian Freelance Union and FreshGigs.

How competitive is the freelance market in Canada?

The Canadian freelance market is competitive, especially in tech and creative sectors. However, with a unique skill set and strong networking, there's ample opportunity.

Should I focus only on Canadian clients?

While focusing on Canadian clients can provide local opportunities and ease of communication, freelancers shouldn't limit themselves and should explore international clients as well.

How do I set my rates as a freelancer in Canada?

Research the average rates for your service in Canada, factor in your experience and expertise, and consider costs like taxes, insurance, and platform fees.

Are there networking events for freelancers in Canada?

Absolutely! Major cities like Toronto, Vancouver, and Montreal often host networking events, workshops, and meetups for freelancers to connect and learn.

Can I work for American or international companies while freelancing from Canada?

Definitely! Many freelancers in Canada collaborate with international clients. Ensure to understand the tax implications and have clear contract terms.

Do I need to sign a contract for every freelance job in Canada?

It's highly recommended. A clear contract outlines the scope of work, payment terms, and protects both the freelancer and client from potential disputes.
Freelancing in Focus: A Snapshot of the Canadian Scene
Considering the freelance route or looking to hire talent in Canada? Dive into these compelling statistics about the world of freelancing, both globally and in the Great White North!
58 MillionFreelancers in the United States: Over 58 million people around the US have chosen the freelance lifestyle.
34%Canada's Freelance Force: Nearly 34% of the Canadian workforce is made up of freelancers and independants, showcasing the nation's shift towards flexible employment.
4.1/5Freelancer Contentment Score On average, full-time freelancers give their job contentment a rating of 4.1 out of 5.
$80,000Average Annual Income: Freelancers in Canada earn an average of $78,000 annually, indicating the lucrative potential of independent work.